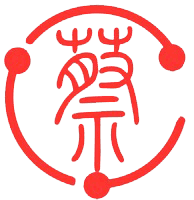 蔡氏徽标图解: "蔡"字从文字结构上,是所有姓氏里唯一以祭拜祖先和神灵作为姓氏的,使 用蔡字的篆文,最能体现这一特征。围绕蔡字的圆圈,是蔡字首写拼音"C"的幻 化;三个实心圆点,首先"三"谐音"生";其次寓意蔡氏先贤蔡元定西山公首创之八卦罗盘中的"天、地、人"三盘;也有蔡氏四世九儒注解"四书五经"之三个经的含义;三个圆点拖着的线条首尾相连,呈顺时针追逐,寓意蔡氏裔孙一切顺利;也形似一卷卷纸张,表明中国四大发明之一的纸张是蔡氏蔡伦公发明的。
Surname Cai's logo explained:
In character structure, Character "蔡" is the reflection of family Cai to worship the ancestors and adore deities and that is why they chose it, which is also the only one purpose in all the other surname's choices. The characteristics are revealed absolutely in the seal script. Around the logo's circle, it is the reflection of 'C' in the Cai's Chinese phonetic alphabet. The three solid circle dots, firstly, the number three means the life for the similar sounds in Chinese. Secondly, it means the three compasses "Universe, world, people" in the Trigram Compass, which is originally produced by Cai Yuan Ding, who is one of the family Cai's forerunners. Thirdly, it means the sense of The Four Books and The Five Classics' three classics, what is annotated by Cai's four generations and night Confucianists. The three circle dots's following lines are connected by the head and the tail with chasing clockwise, which means all the family Cai everything goes well. And they look like a reel of papers, which reveals that papers, one of the Chinese four ancient inventions, was invented by Cai Lun.